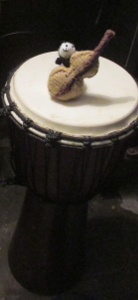 Name:
Boris the Bass-Playing Bear
Instrument:
Double Bass
Boris is the most recent addition to the band's roster of musically adept beasts. He has had to overcome more obstacles than most in his journey to become one of the foremost albino grizzly bear double bassists in the North of England, including his being only 4 inches tall, a total lack of internal organs, and the fact that he has no arms. However he has never let these handicaps get him down, and this relentless positivity is there for all to see in his winning smile and natty clothing accessories.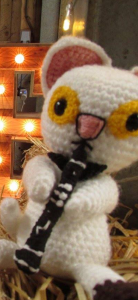 Name:
Clarence the Clarinet-Playing Cat
Instrument:
Clarinet
Clarence is a crocheted cat, but that hasn't stopped him becoming a highly accomplished musician. Over the years he has grown increasingly attached to his clarinet, and nowadays the two are virtually inseparable. Clarence can often be seen in the background of Jelly Roll gigs, taking in the music with the help of his disproportionately large triangular ears. He also occasionally fills in for Michael when he is unavailable.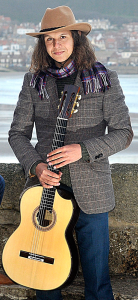 Name: Alastair James
Pseudonym: Nickname-As-Yet-Undecided
Instrument: Guitar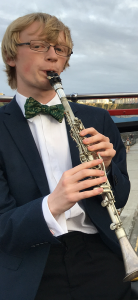 Name:
Michael A. Grant
Pseudonym:
McCool
Instrument:
Clarinet/spoons
Website:
www.michaelgrantmusician.com
Before becoming a professional musician, Michael completed a degree in chemistry. This is reflected in his scientific style of clarinet playing, and the fact that he still spends a lot of time in the presence of men in white coats. He has been playing the clarinet since the age of 7, and performs regularly in a mixture of orchestral concerts, big band performances, musical theatre shows and private events. When not playing in The Jelly Roll Jazz Band, he likes to sit in a darkened room and think about cake.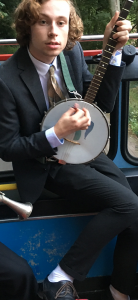 Name:
Dan Wackett
Pseudonym:
Mister Jelly Roll
Instrument:
Banjo/Musical Saw/Dial Up Modems
Dan was created from a mixture of lead, artichoke hearts and gravy boat handles. He has completed pacman three times in a row with his eyes closed, without missing a single fruit. Dan is Jelly Roll's first ever part-human, due to a horrific accident involving a large amount of radium and a small vial of duck's tears. Dan also has a real job.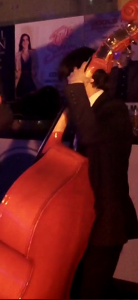 Name:
Robert Schmuck
Pseudonym:
Robert2-D2
Instrument:
Double Bass
Prior to his involvement with the band, Robert lived deep in the Himalayas, where he closely studied the art of standing. Although he is a man of many words, he has yet to say anything. He has previously been quoted as saying "I am the only man with sixteen feet that has less that three toes". Sources have confirmed that his left pinkie glows in the dark.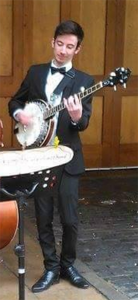 Name:
Nathan Steele
Pseudonym:
The Artist Formerly Known as Susan Mabel
Instrument:
Banjo
As the youngest member of the band, it may surprise you that Nathan has accrued over 52560000000 minutes playing with the band. He has mastered every martial art, which is 99% of the reason he was recruited to the band. Although he occasionally plays music with the band, the majority of his work for The Jelly Roll Jazz Band is acting as the band assassin.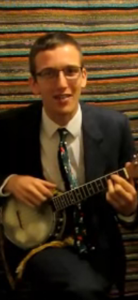 Name:
Steve Sidman
Instrument:
Banjolele
Steve is the only member of the band that doesn't originate from Scarborough. Steve is one of the biggest names in the banjolele world, delivering some of the best tutorials ever seen (not only in the banjolele world, but generally on the internet). He has coined such techniques as the "Closed Open Closed Kick". Steve is available for private lessons for the price of six half eaten watermelons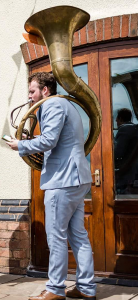 Name:
James Ure
Pseudonym:
The Monster
Instrument:
Sousaphone
He's not called The Monster for no reason. One time James rode a bus for 25 minutes, and the driver stopped 300 metres short of the bus stop purely so he didn't have to walk from the bus stop to his house. James didn't even say thank you. The Monster!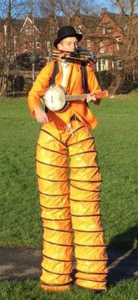 Name:
Laurence Marshall
Pseudonym:
Wahboard
Instrument:
Sousaphone/Washboard/Whistles/Trumpet/Trombone/'Vocals'
Laurence is the founding member of The Jelly Roll Jazz Band. Although he enjoys playing with the band, he doesn't actually require any help. He has a prominent solo career and has previously been described as "sometimes here" and "not as bad as stepping on a rake".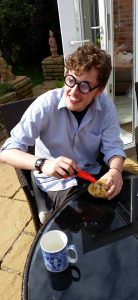 Name:
Ben Sarney
Pseudonym:
Mister Popcorn
Instrument:
Double Bass
Ben has played double bass for as long as he has owned a double bass. Although he has had no lessons, he is able to give that authentic "out-of-tune" sound to every piece he plays. Sometimes he manages to follow the chord charts all the way to the end. One time Ben caught a live leprechaun, though it later turned out that he had just managed to grab his own arm whilst dressed in a small green suit. Ben has an in-depth knowledge on reattaching heads and an out-of-depth knowledge of bow rosin.